Shaklee 180® Healthy Eating
A simple program for you—including tasty shakes and healthy dinner recipes to help you reach your goal.
This clinically proven program is SIMPLE to follow.
Here's how:
Breakfast
Snack
Lunch
Snack
Dinner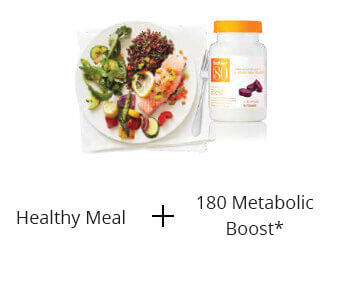 Meal Plans
Set the amount of weight you want to lose (a BMI chart can be a helpful reference). Next, based on your current weight, find the calorie level that's right for you on the chart below.
The right calorie level should promote a slow, safe rate of weight loss (1-2 pounds per week) and provide enough calories to control hunger and leave you feeling satisfied. The following meal plans can help you stay on target for your specific calorie goal.
Click here to get your meal plan based on your current weight range per the chart below. 
Shake Recipes
How to make a delicious, healthy shake every time?
Starting with 130 calories per serving, it's easy to mix your favorite Life Shake with your choice of milk or water, customize with your favorite ingredients, and still meet your calorie goals.
Here are some perfect add-ons:
1 scoop Organic Greens Booster

(10 calories)

1/4 avocado

(80 calories)

1 Tbsp. almond butter

(98 calories)

1/2 cup strawberries

(49 calories)

1/2 cup nonfat yogurt

(85 calories)

1/2 banana

(52 calories)

1 Tbsp. peanut butter

(90 calories)

1 cup blueberries

(85 calories)

Vanilla (or almond, peppermint, etc.) extract

(10-15 calories)
Dinner Recipes: What a healthy meal looks like
½ to 1 cup whole grain
Quinoa
Brown rice
Whole grain or gluten-free pasta
4-6 ounces protein
Free-range chicken or pork
Wild-caught salmon
Tofu
Grass-fed beef
Beans and legumes
Unlimited veggies
Focus on colorful options—a lot of greens, reds, and oranges. Fill at least half your plate.
Pick a healthy fat
1-2 Tbsp. olive oil or olive oil-based dressing
1/4 avocado
1/8 cup shredded cheese
*These statements have not been evaluated by the Food and Drug Administration. This product is not intended to diagnose, treat, cure, or prevent any disease.